This past weekend, I had the pleasure, nay honor, to attend the New Kids On the Block reunion concert. I have decided that it was fate that I attended, because my discounted tickets I found on Craigslist placed me closer to Jonathan Knight than I have ever imagined. I mean check out how they have maintained their stud status over the years: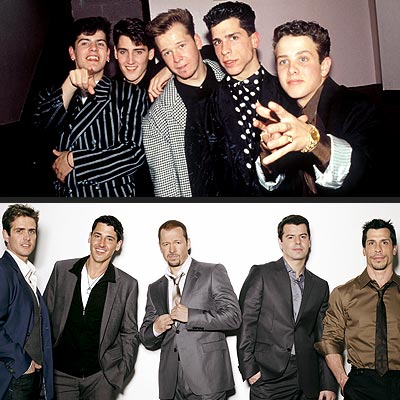 Yes, I screamed frantically, jumped up and down (sometimes with my eyes closed), sang at the top of my lungs (also with my eyes closed), danced and stretched out my arms as fas as I could reach in hopes that one of those "Kids" would stop to touch my hand. I am also convinced that Danny pointed at me during "Face Time" and said "Oh Yeah," as I danced without any inhibitions within in eye sight of the stage.
After only speaking and writing HTML over the past few days, the time has finally arrived for me to take the train down to Portland. Here I come turkey!!!